Division of Research Update
April 2023
From the day she arrived, Chancellor Sharon Gaber has focused on building research capacity at UNC Charlotte. As she often says, "Every great city has a great university, and UNC Charlotte is Charlotte's great university." In late 2022, the Chancellor reorganized the Division of Research and tasked it with leading the University's research growth strategy.
The University's "Shaping What's Next: Strategic Plan 2021-31," has informed "Roadmap to Research Top Tier" and the Division of Research Strategic Plan, which collectively guide the research enterprise.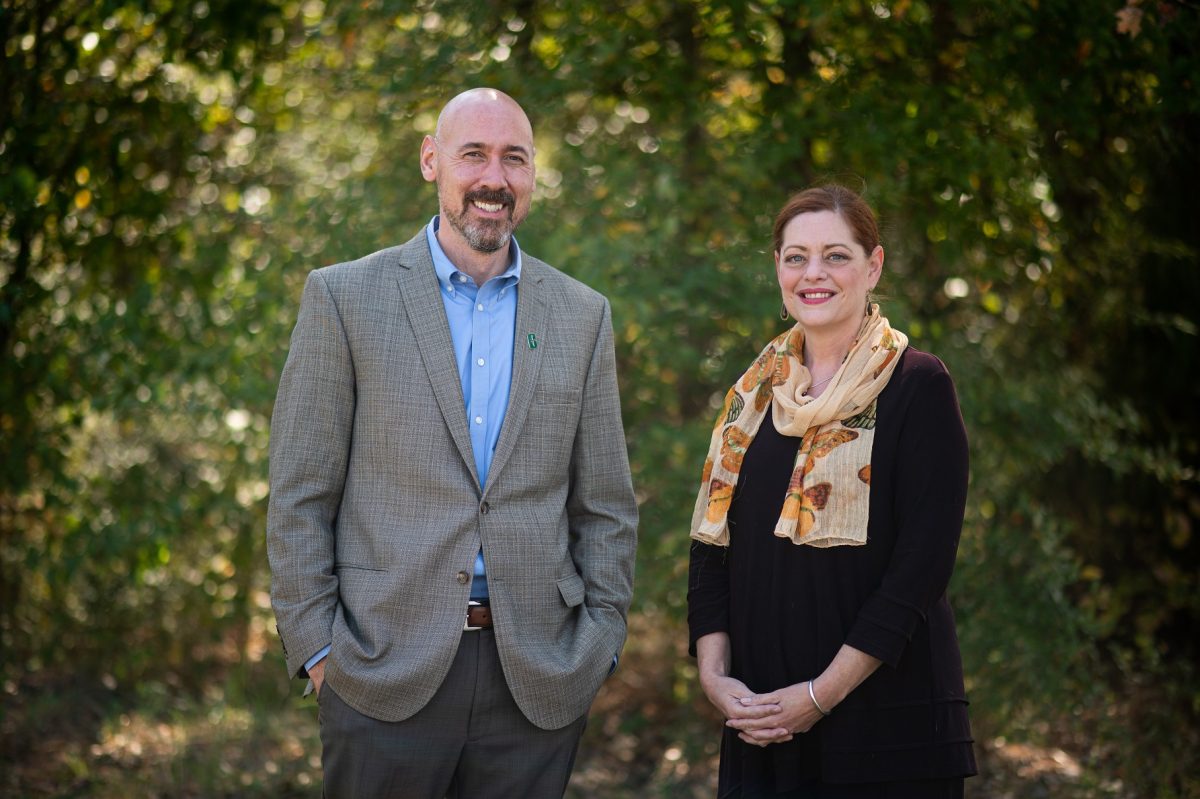 John Daniels and Deb Thomas
To build momentum and capacity, the division has worked through several recommendations from these documents.
We're happy to announce four bold new initiatives, funded by facilities and administrative fees (F&A)/indirects, with details forthcoming in fall 2023:
$3 million investment in core facilities: Facilities/units that receive funds will be directed by a business plan that demonstrates financial sustainability and investment recovery within three years. Dr. Glenn Boreman, Professor and Chair of Physics and Optical Science, will chair a task force for this effort.
$2 million investment in internal awards and support: The amount for internal awards in 2023-24 will double while support (e.g., proposal review) and data analysis will increase to ensure a higher conversion rate to external follow-on funding.
$3 million investment in a new postdoctoral scholar and research scientist support program: Support will be available for postdoctoral scholars and research scientists with cost sharing by the PI, department and/or college.
$0.5 million investment in a fellows program: This will fund fellows and their ideas for initiatives that foster research growth. There will be a call for proposals in the 2023-24 academic year.
And we're just getting started.
Building on substantial efforts undertaken so far, we look forward to working with faculty, staff, and students across campus as we accelerate and support all aspects of UNC Charlotte's research operation.
Already, 90% of division staff positions (up from 50%) are filled and we are on pace to be at full strength by June. We can't do this alone, so we're partnering with Academic Affairs, departments, colleges, centers and institutes, the Graduate School, urbanCORE, OneIT, Business Affairs, Institutional Integrity, University Advancement, University Communications, External Relations and Partnerships and more to accomplish our goals.
A new ticketing system allows faculty and staff to track a request as it moves to resolution. Our proposal platform, NinerResearch, is now implemented with major challenges resolved; we are moving toward enhanced reporting functionality. And we're working to map processes from proposal submission through award closeout for optimal efficiency and effectiveness. In regard to internal seed funding, we've committed more than $2 million, including for our new Ignite by Centers program. And watch for a newly designed website in summer 2023.
With the chancellor's leadership, we are pursuing direct project support from key members of the U.S. Congress; these "community projects" represent meaningful federal investment in UNC Charlotte and our region. We're also working with the regional industry to explore public-private partnerships with an aim to increase facilities and resources.
All this activity — and your support — will lead to greater impact and meaning for us all as well as our business and community partners. Our track record provides reason for optimism: Over the past decade, research expenditures have grown 87%. And Charlotte is now seventh in the nation for startups per research expenditure — the highest in North Carolina and ahead of MIT and Stanford. We look forward to recognizing the efforts of faculty and staff for their exceptional work early in fall 2023 at the annual awards ceremony.
Join us in UNC Charlotte's transformation. Your partnership is essential. We are working with Greenwood Asher & Associates to facilitate the development of a research implementation design and roadmap. In the coming days, look for an email survey whose results will keep the dialogue flowing. We look forward to hearing from you!
John Daniels
Interim Vice Chancellor for Research
Deb Thomas
Interim Associate Vice Chancellor for Research