Powering the Future: The Case for a Top-Tier Research Institution
In late 2020, Charlotte launched a strategic planning process to set the University's strategic direction for the next five to 10 years. The result of that work is Shaping What's Next, UNC Charlotte's Strategic Plan 2021-31. One of the four strategic pillars of the plan is to Power the Future Through Inquiry, Research and Creative Discovery.
Recognition as a top-tier institution will not only benefit UNC Charlotte, but the city and region through:
Elevating the University's profile as well as its national and international reputation, placing it among the nation's top research universities.
Stimulating economic development and industry growth, boosting state and national investments in campus research and facilities.
Enhancing the recruitment and retention of outstanding and successful faculty and students.
To help achieve this goal, the University's Top-Tier Research Commission established areas of research focus and distinction, based on current areas of strength and areas of opportunity.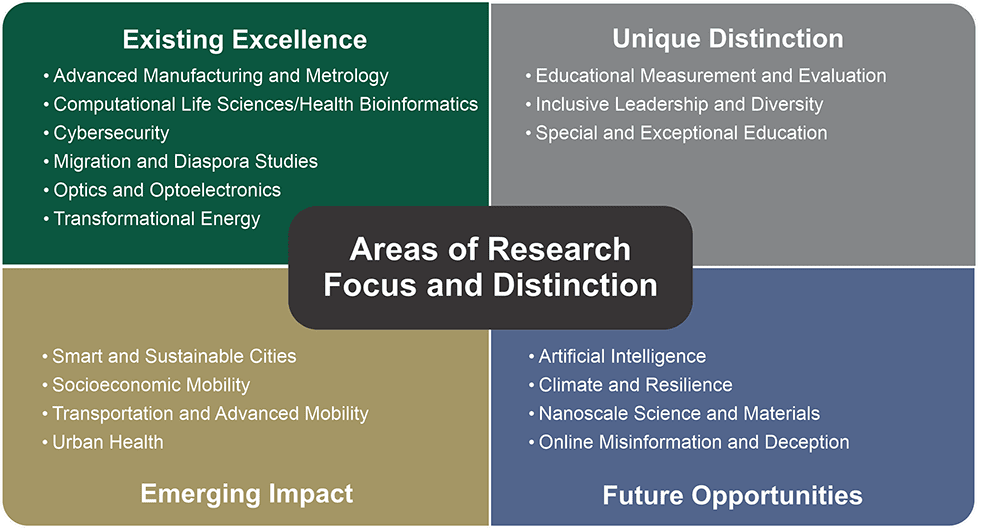 These areas will serve as the focus of strategic institutional investments and future research development support, including:
New tenure-track and research faculty hires
Endowed professorships
Graduate programs
Core facilities
Large-scale proposal development and planning
Seed grant programs
Honorific awards and recognitions
Targeted proposals
Equipment and infrastructure investments
All campus faculty and staff are encouraged to identify ways their research, scholarship and creative activities might contribute to the growth and success of one or more of the areas and to participate in networking opportunities and activities designed to bolster awareness of researchers working on related topics and catalyze and strengthen new and existing collaborative research clusters.
Read the Full Report