Research Related Fees
Fiscal Year 2024 Per Diem Rates, Effective July 1, 2023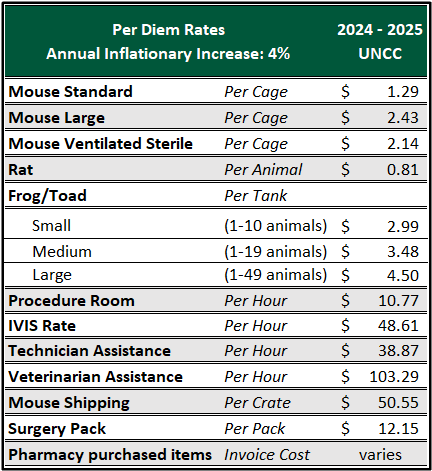 Rates for Non-UNC Charlotte Academic and Commercial users may be requested by contacting the Vivarium via email (vivarium@charlotte.edu).

*Notes on IVIS use:
IVIS training consists of instrument usage and data acquisition. Training/proficiency confirmation in handling and restraint, injection techniques, and anesthesia induction/maintenance must be completed before IVIS training can occur.
Cancellation: IVIS sessions can be canceled up to 24 hours prior to the scheduled use by submitting a meeting cancellation via Gmail or sending an email to vivarium@charlotte.edu. All scheduled uses not canceled prior to 24 hours in advance will be charged at the normal rate, regardless of whether the instrument was used or not.
Data Storage: Once registered and trained, users can access a desktop folder in which to temporarily store their lab's data. However, long-term data storage on the IVIS computer is not recommended, as this data is subject to deletion. Data may be removed from the IVIS computer using a USB flash drive or USB external hard drive.