Research Imaging System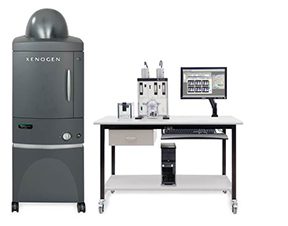 The IVIS Spectrum Imaging System is a highly sensitive, low light-level system optimized for in vivo and in vitro imaging. Filters and spectral un-mixing algorithms let the researcher take full advantage of bioluminescent and fluorescent reporters across the blue to near infrared wavelength region.
Examples of the IVIS's capabilities:
Tracking of bioluminescent or fluorescently tagged cancer cells to monitor growth and metastasis.
Monitor all forms of cell transplant experiments to quantify engraftment, cell growth or cell differentiation. Uses would include studies of stem cell transplants, reconstitution of hematological and immune systems after irradiation.
Monitor the in vivo gene activity in transgenic animals carrying appropriately tagged promoter indicator transgenes.
Monitor in vivo gene activities in cells that have been reconstituted to carry a bioluminescent or fluorescently tagged expressed gene.
Monitor any form of biochemical activity that can be assayed using a bioluminescent or fluorescently tagged substrate.
UNC Charlotte's IVIS Spectrum is located within the University's secure research animal facility. IVIS use is billed per hour (either assisted or unassisted) with two hours minimum per session.)
Questions about the IVIS Spectrum's capabilities may be directed to UNC Charlotte Research Imaging by email.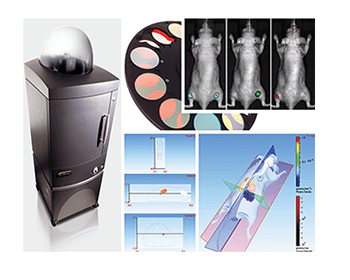 IVIS Imaging System Awards
The Center for Biomedical Engineering and Science (CBES) is pleased to announce Special Seed funding (courtesy of the Office of Research and Economic Development) for IVIS Imaging time to help advance new biomedical research. Applicants can apply for the Seed funding by submitting their application to Nataly Tapper via email. Please select the appropriate category below for eligibility and requirements.
Research related fees, including charges for IVIS related services can be found by following this link.